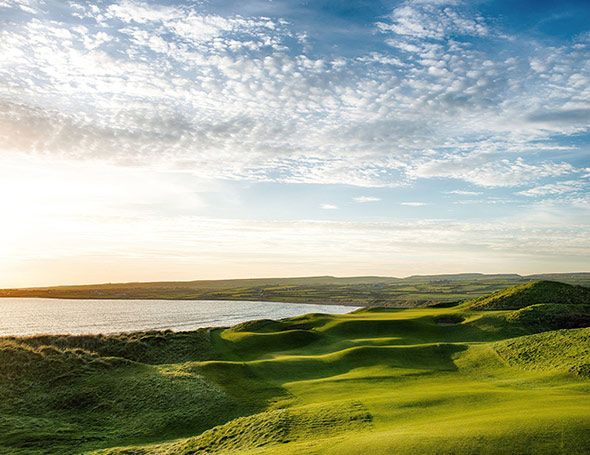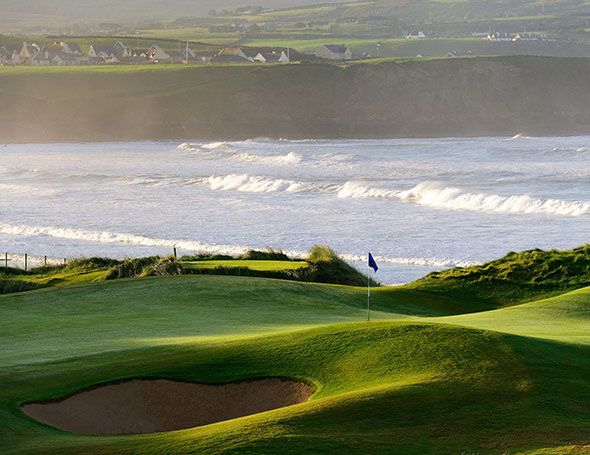 A links golf course on the west coast of Ireland, this pearl is situated in the busy seaside town of Lahinch in County Clare. The Club was founded 128 years ago by Alexander W Shaw and Richard J Plummer, who laid out an 18-hole course – and was described as the 'St Andrew's of Ireland'.
Today it comprises two 18-hole courses – the Old Course, between the road and the sea, and the Castle Course which is a flatter links and includes the extra attraction of goats who roam freely on the course!
Ranked no.5 on the 'Top 100 golf courses in Ireland' list (Golf Digest), the Old Course presents a unique golfing challenge, with vast sand dunes that often require blind shots, and of course the changeable Atlantic winds. Noteworthy holes include the blind 4th and 5th, known as the Klondyke and Dell holes. The Castle Course might be slightly less of a challenge – but is just as interesting and a joy to play.
Lahinch hosted the Dubai Duty Free Irish Open in 2019, which was won by Spain's Jon Rahm. Many tour professionals have visited Lahinch – including Luke Donald, Davis Love III and Jim Furyk, while Phil Mickelson is an Honorary Lifetime Member. 
While You're Here
Lahinch is also known as 'surf central' – home to some of the best surfing schools. You're just a short drive away from the magnificent Cliffs of Moher – which can be viewed from the splendid Visitor Centre or experience them from the sea by taking an hour-long cruise around the coastline, from nearby Doolin. The Burren is close by too - Ireland's unique karst landscape underlain by limestone which covered most of Ireland approximately 350 million years ago. For history lovers, be sure to make a stop at Liscannor Castle – a relic of the Middle Ages.